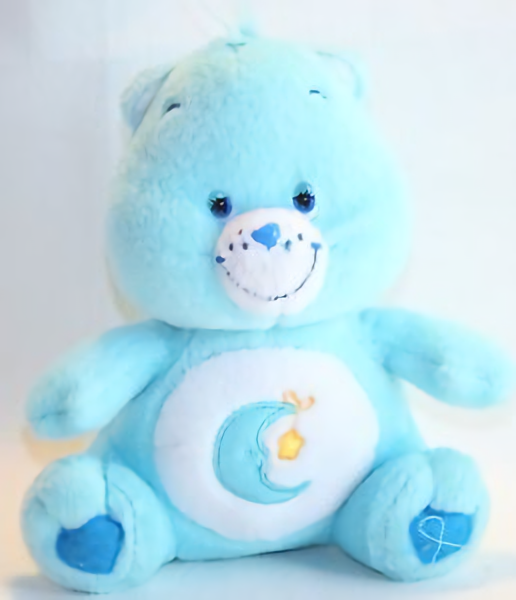 A Bedtime Bear plush from 2003! This was a thrift find! I don't usually purchase plushies from thrift stores, but he was so big and cute, and in very good condition!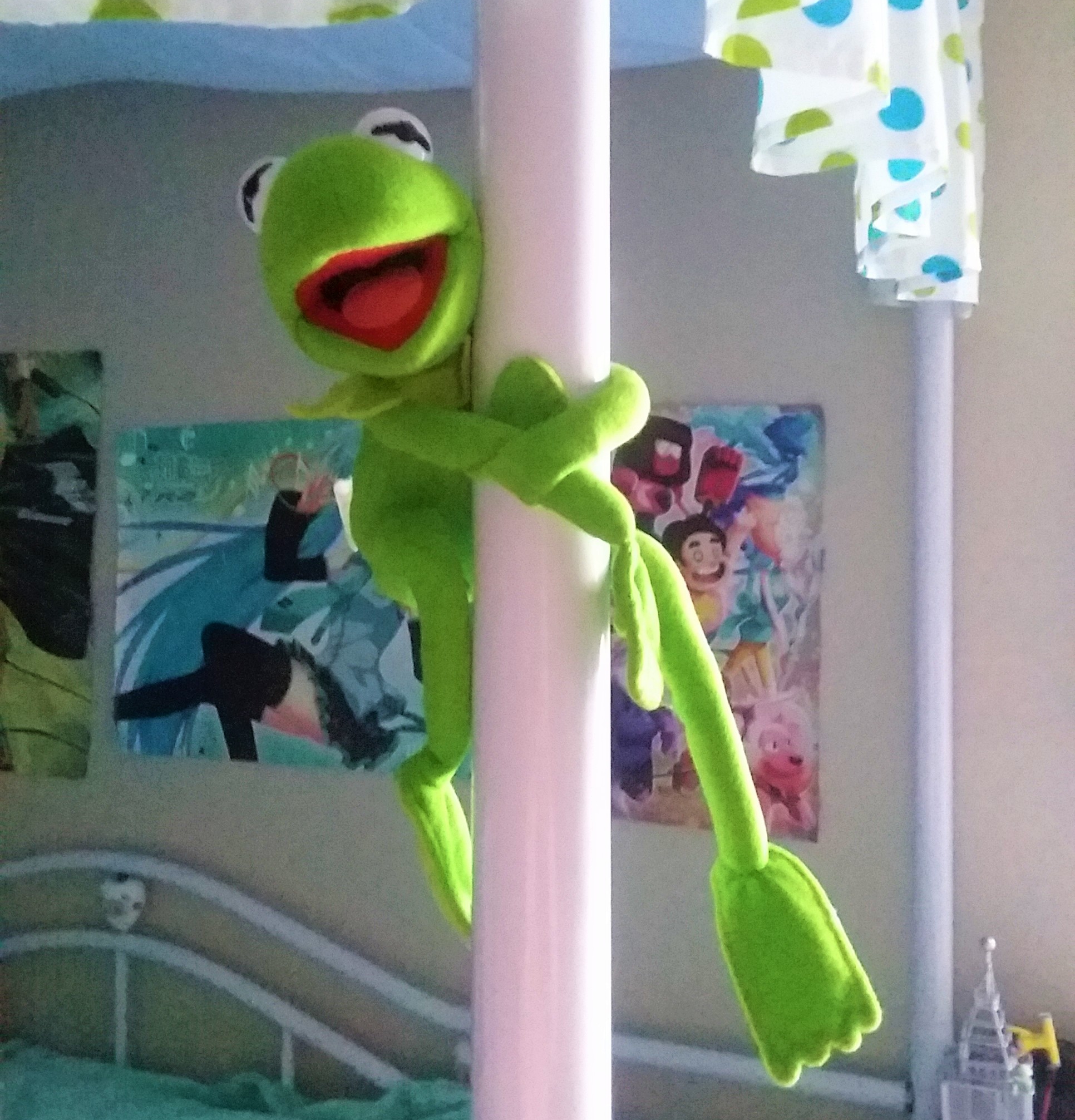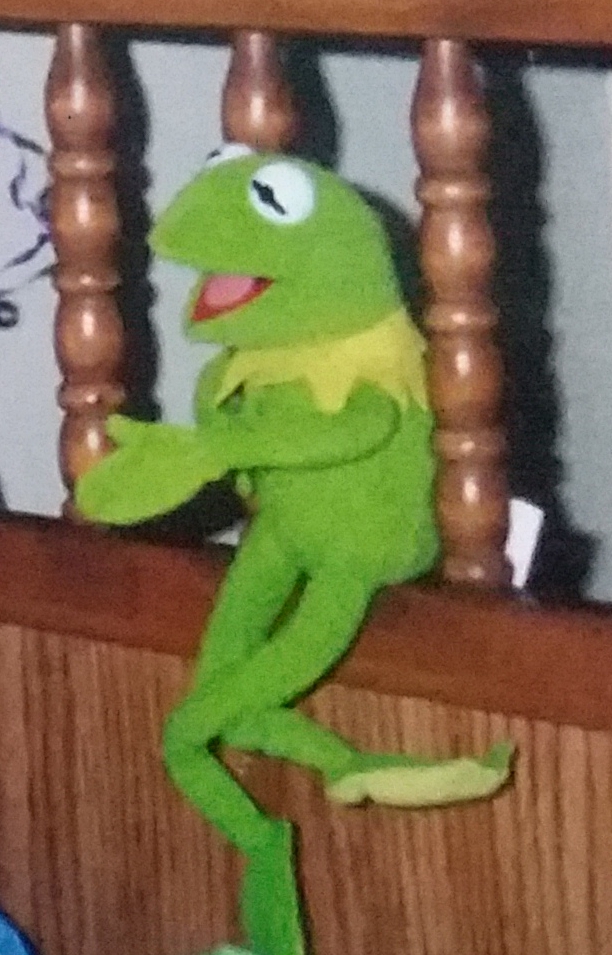 This is a Kermit the Frog plushie that I've had since I can remember! This posable little fella was gifted to me by my parents since I was born (right picture)!! I still have him to this day and he hangs onto one of the pillars of my bed.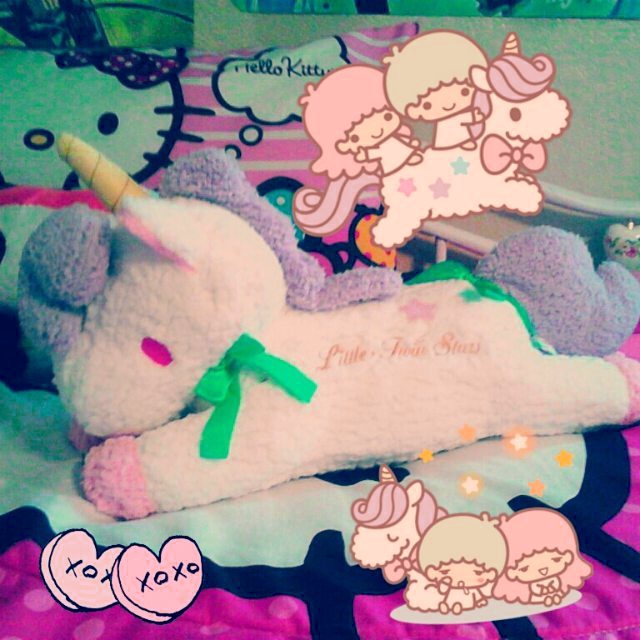 This plush is one of the unicorns belonging to Sanrio's Little Twin Stars! I found him at a convention in 2016! I absolutely adore him, but was disappointed to find out that none of the unicorns had names...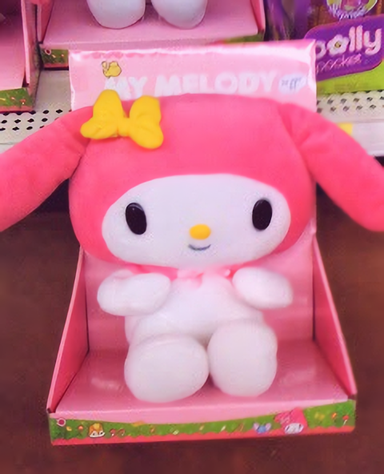 This My Melody plush was gifted to me by my dad when I was around 3-4 years old!! She's very special to me because of this! I'd like to think that it was this plushie that helped me start gaining an interest in Sanrio characters aside from Hello Kitty!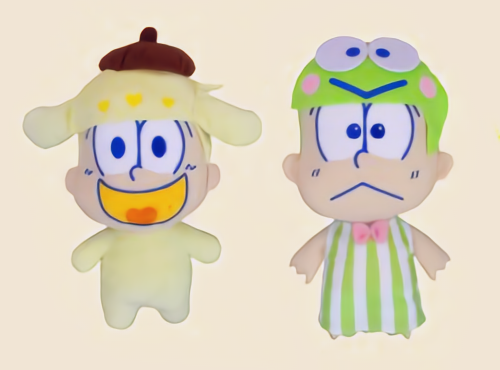 These are the Jyushimatsu and Choromatsu plushies from the Osomatsu-san x Sanrio collection! With Osomatsu-san and Sanrio being two of my favorite things, these plushies made me super happy to have!! The whole collaboration in general made me empty my wallet lol. I first received the Choromatsu x Keroppi plushie in the fall of 2017, and I was enamored by how cute he was and the quality!! Though it's oddly specific, the back of his head is suuuuper soft and comforting to feel, so I ordered the Jyushimatsu x PomPomPurin plushie

in early spring of 2018, in hopes of him being just as soft! He arrived on a particularly terrible and exhausting day, so it made me especially happy to have such a surprise in the mail.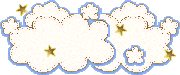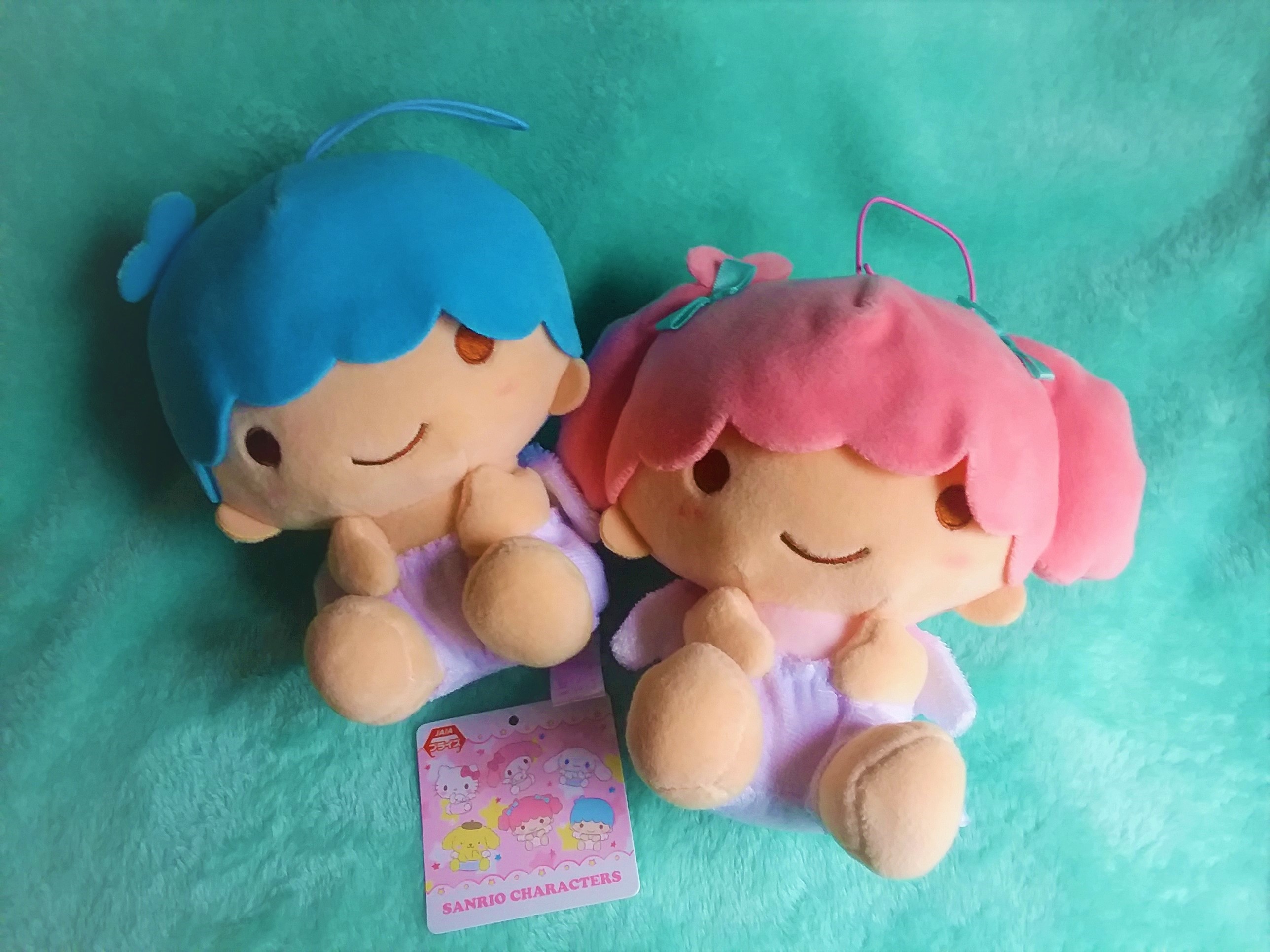 These adorable little baby angels are from Toreba, the online crane game!!! I loooove the Sanrio baby angels merchandise line so much!! Kiki and Lala now sit atop their unicorn! They fit perfectly! I hope to find baby Cinnamoroll and PomPomPurin too!! Though they're not my favorites, I think they look the cutest in this collection!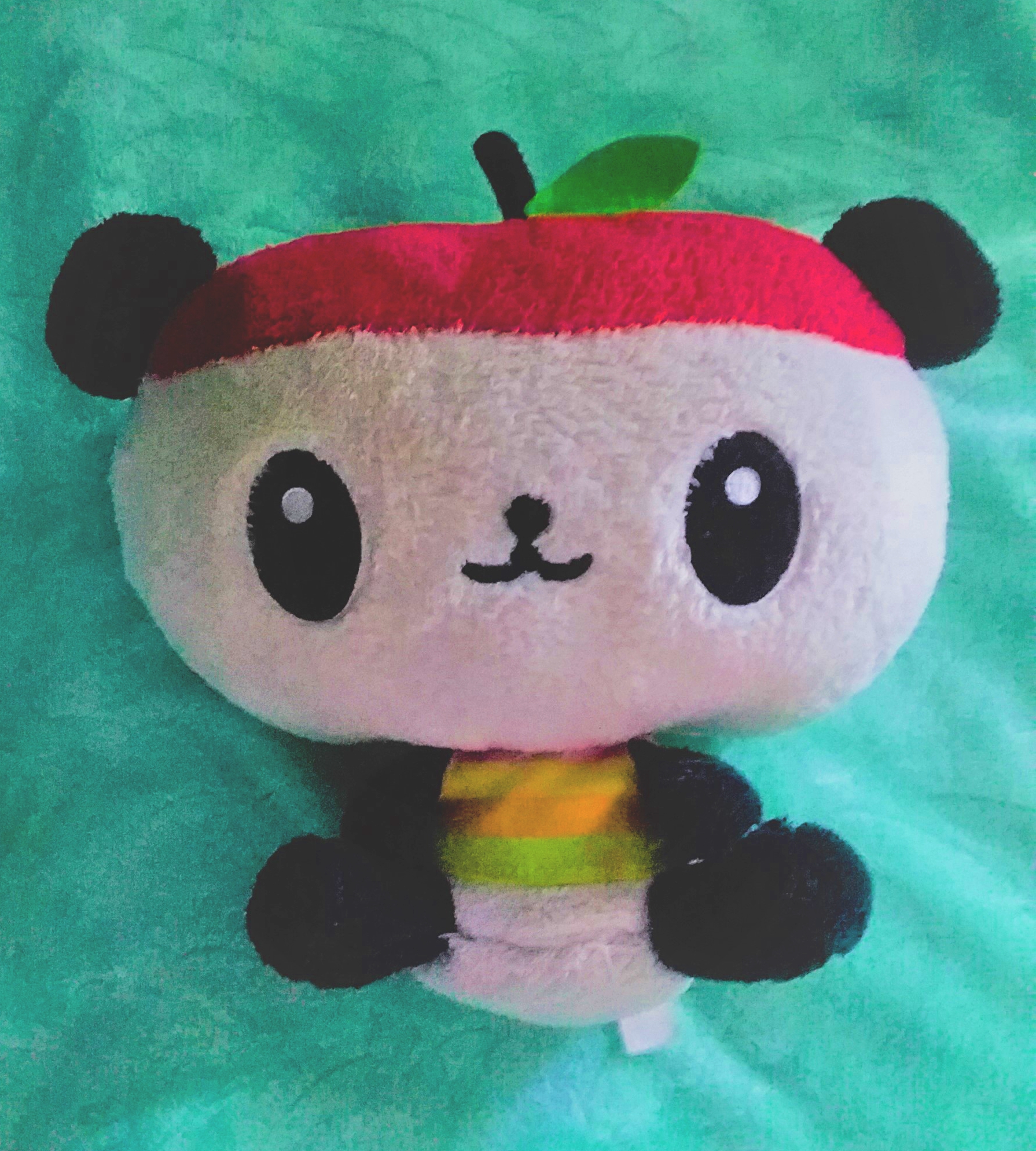 This Pandapple plushie was an amazing thrift find!! When I saw him, I really couldn't remember what his name was

, but I knew for a fact that he was a Sanrio character, so I had to pick him up! He had a small stain on his shirt that wouldn't go away, but I couldn't let that stop me from attaining such a rare find!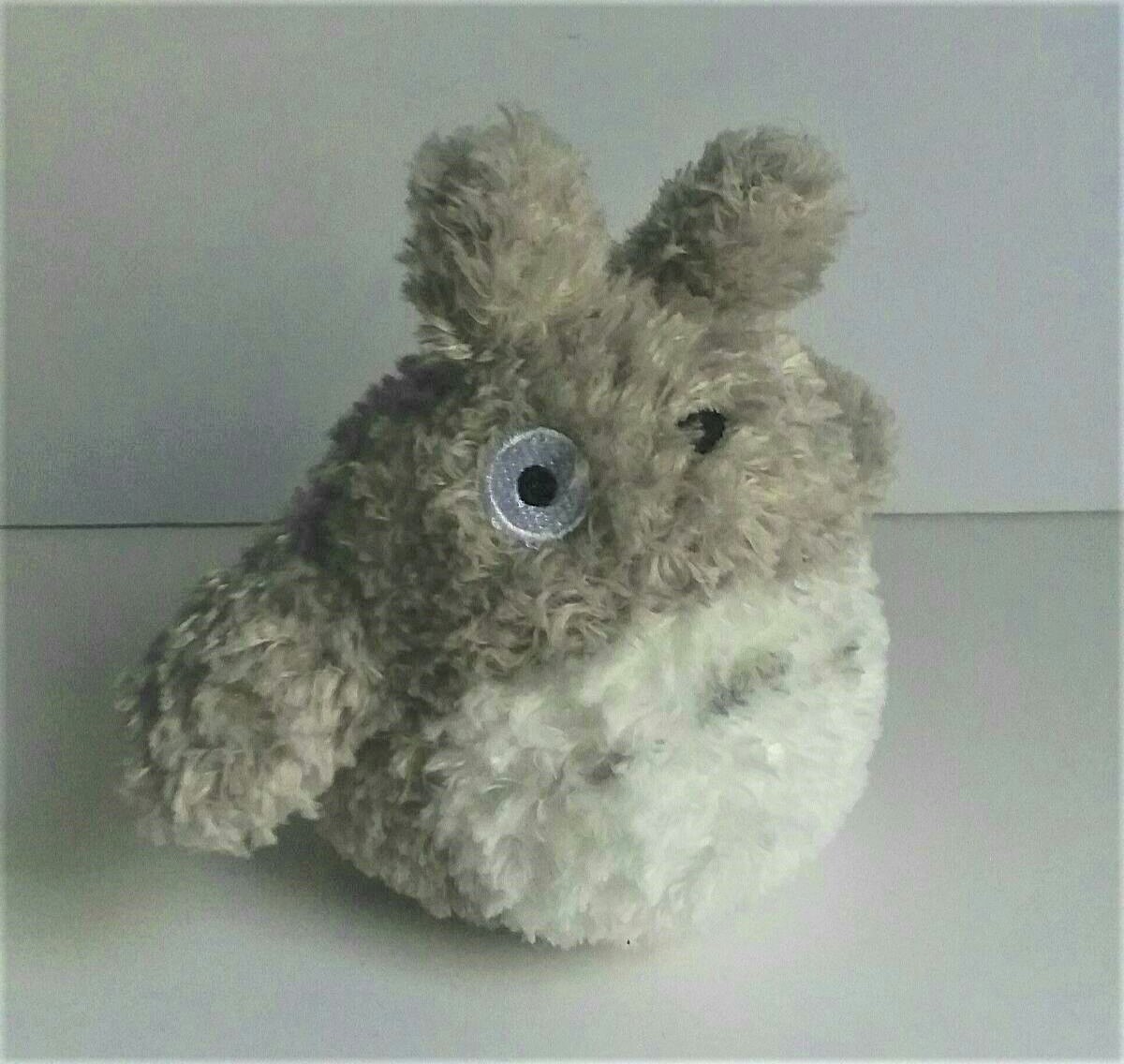 This Totoro plush was gifted to me by the wonderful Poppy! She gifted it to me on Halloween of 2015 (I think it was 2015... I'm not sure... qwq), so it holds a special memory to me!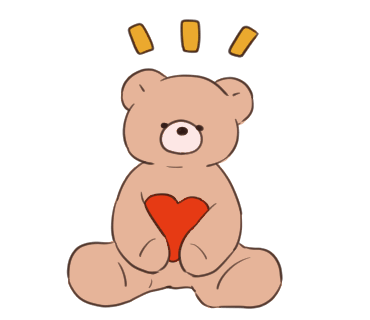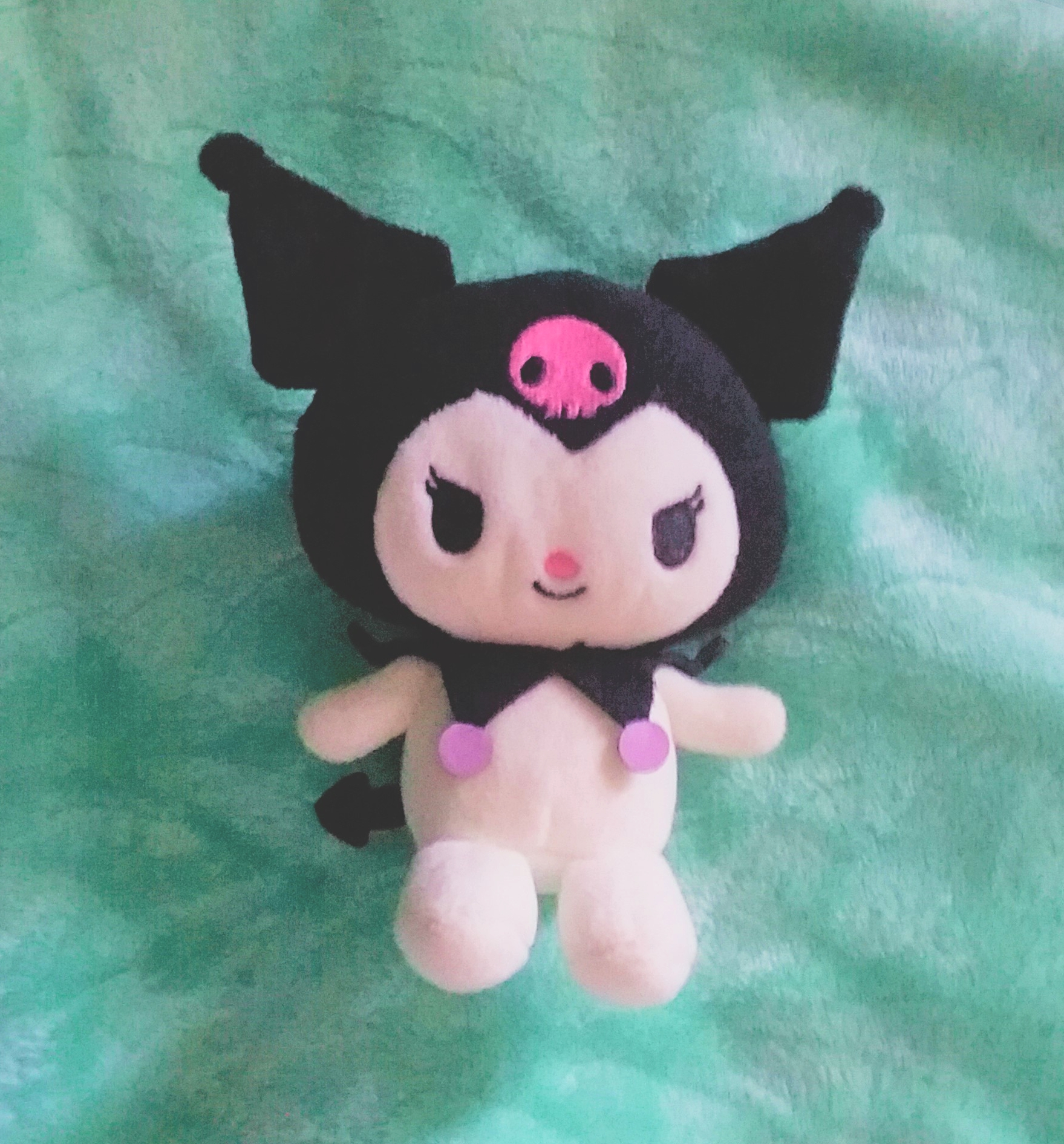 A tiny lil' menacing Kuromi plush... yeah >:3c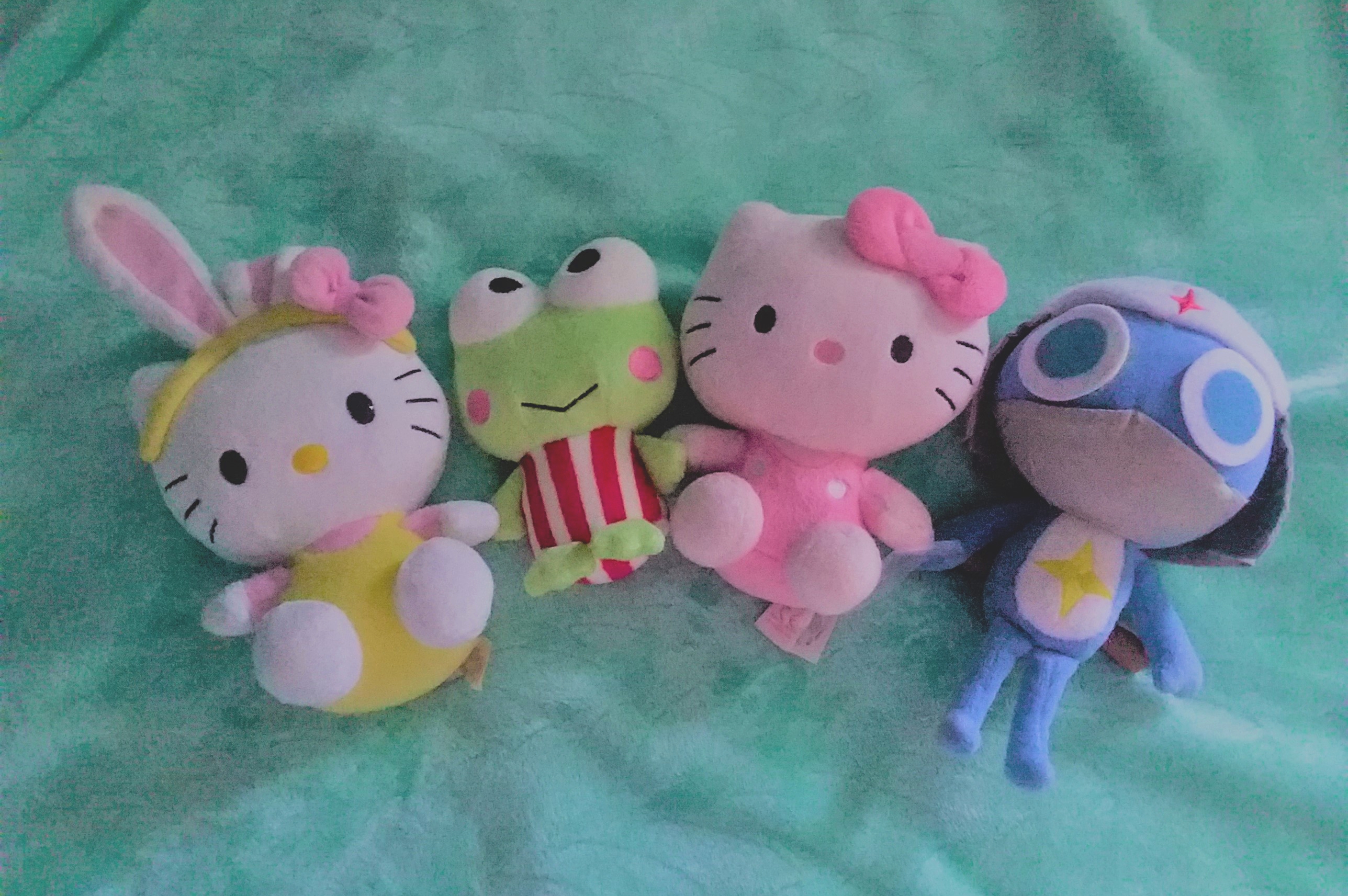 All of these plushies were gifted to me by poppy as well!! I'm very appreciative of all of her cute lil' gifts!

From left to right, she's gifted me an easter Hello Kitty, Keroppi, pink Hello Kitty, and a Dororo Plush!! All of these hold special value and memories for me, especially the Dororo one, which she's had since 5th grade!! What a cutie!!!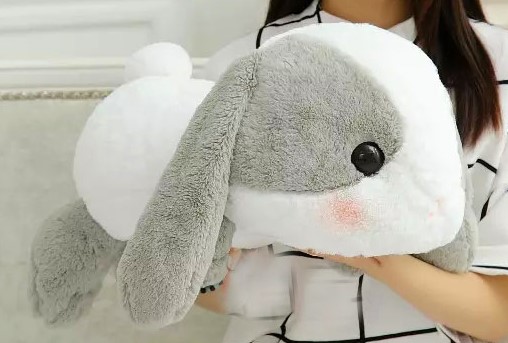 This big ol' boy is a Pote Usa Loppy bootleg!! In this case, I could care less about his authenticity though; he's too big and soft to care! Absolute ideal size for cuddling!!! He arrived with a cute red bow around his neck, promptly leading me to name him Cherry!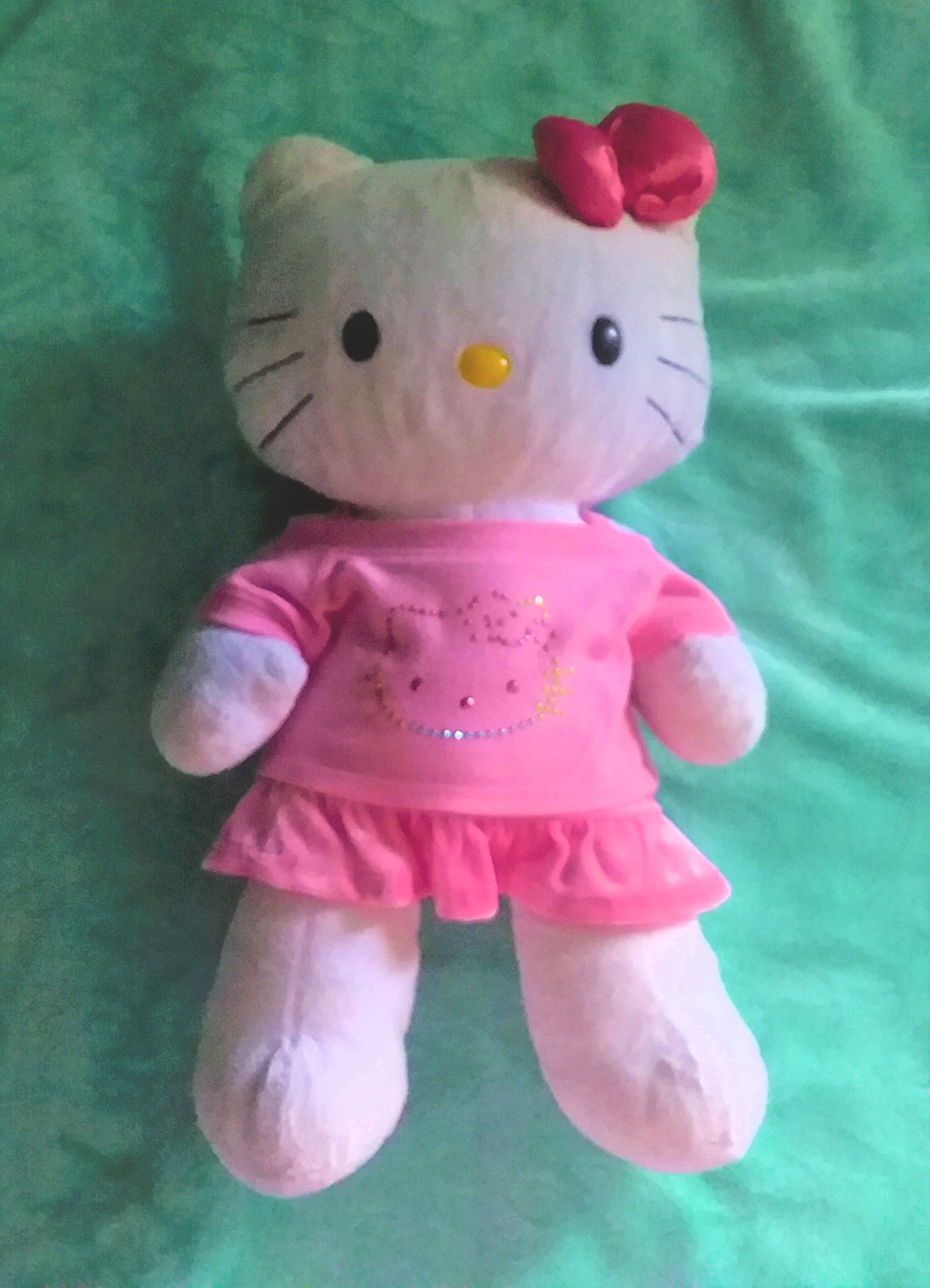 This Hello Kitty plush is from Build-A-Bear Workshop! This plush was a gift from my dad when I was around 3 years old. She came with a little pink jacket and fluffy pink shoes with her face on them, but I've since misplaced them.

She's very well loved now, and a little worn, but because of the sentimental value she has, I still love her very much!!
This is the (medium size) Tsum Tsum plush of the Toy Story Alien! I'm a sucker for anything with 3+ eyes... or one singular eye.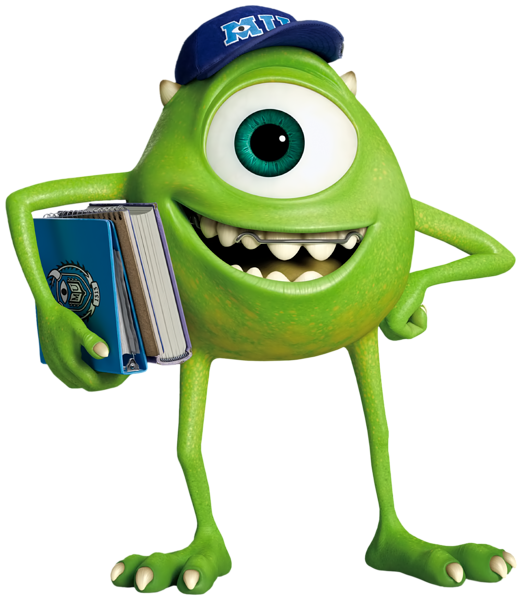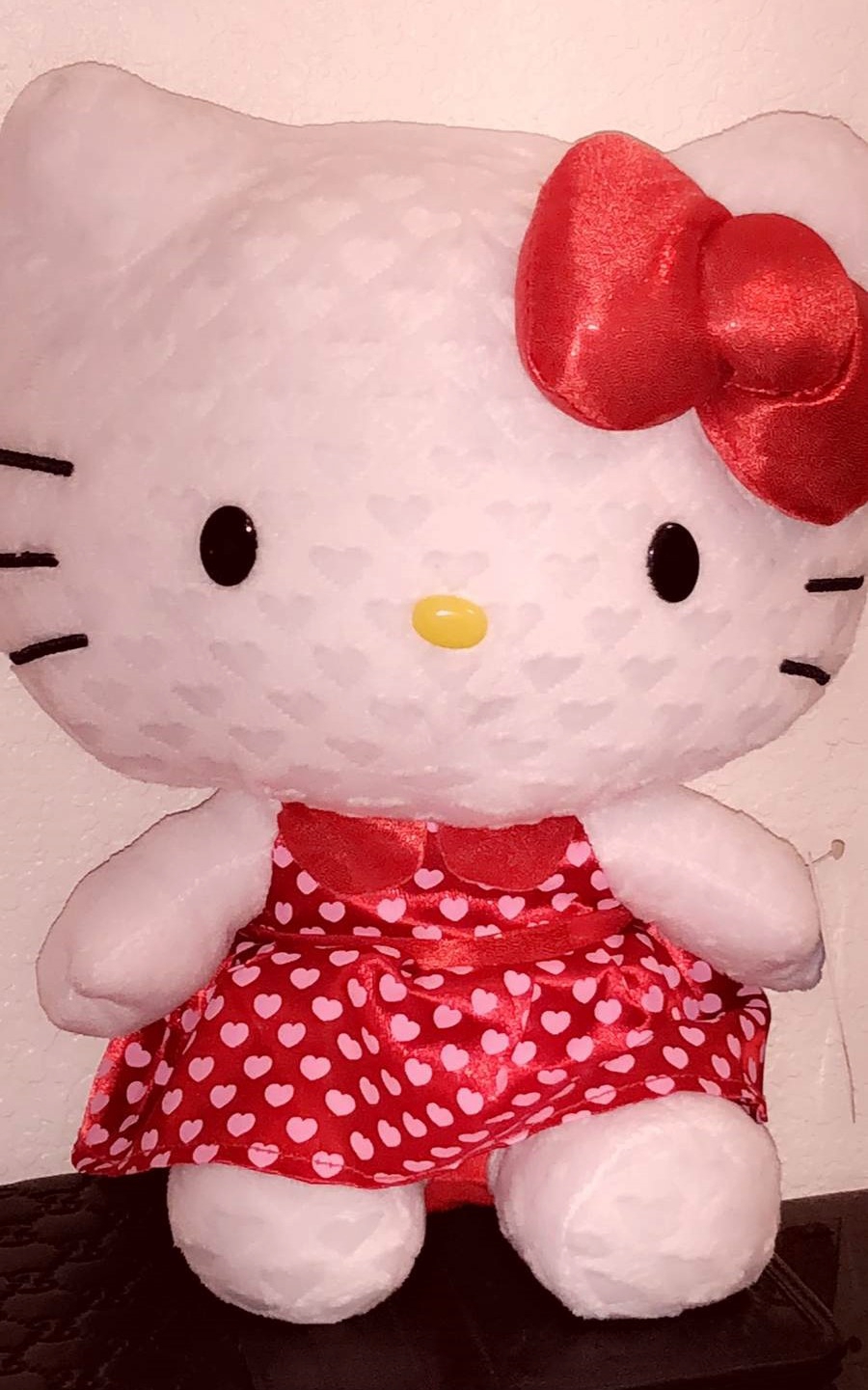 This Hello Kitty plush was gifted to me by my parents on Valentines day of 2017! She's super soft, and her fur has hearts imprinted all over it!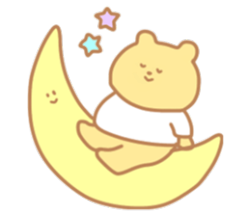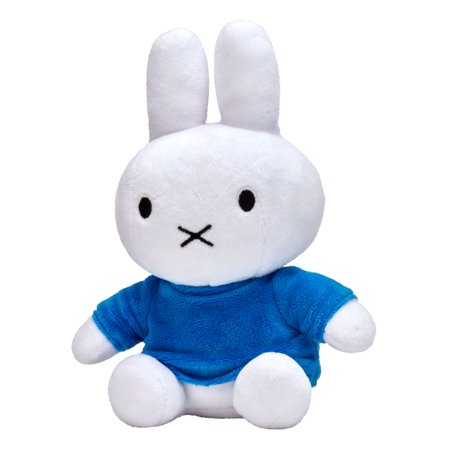 I've always loved Miffy's design since I was little, so I felt compelled to buy this plush when I saw it in person. I have yet to regret that decision.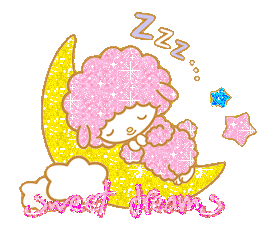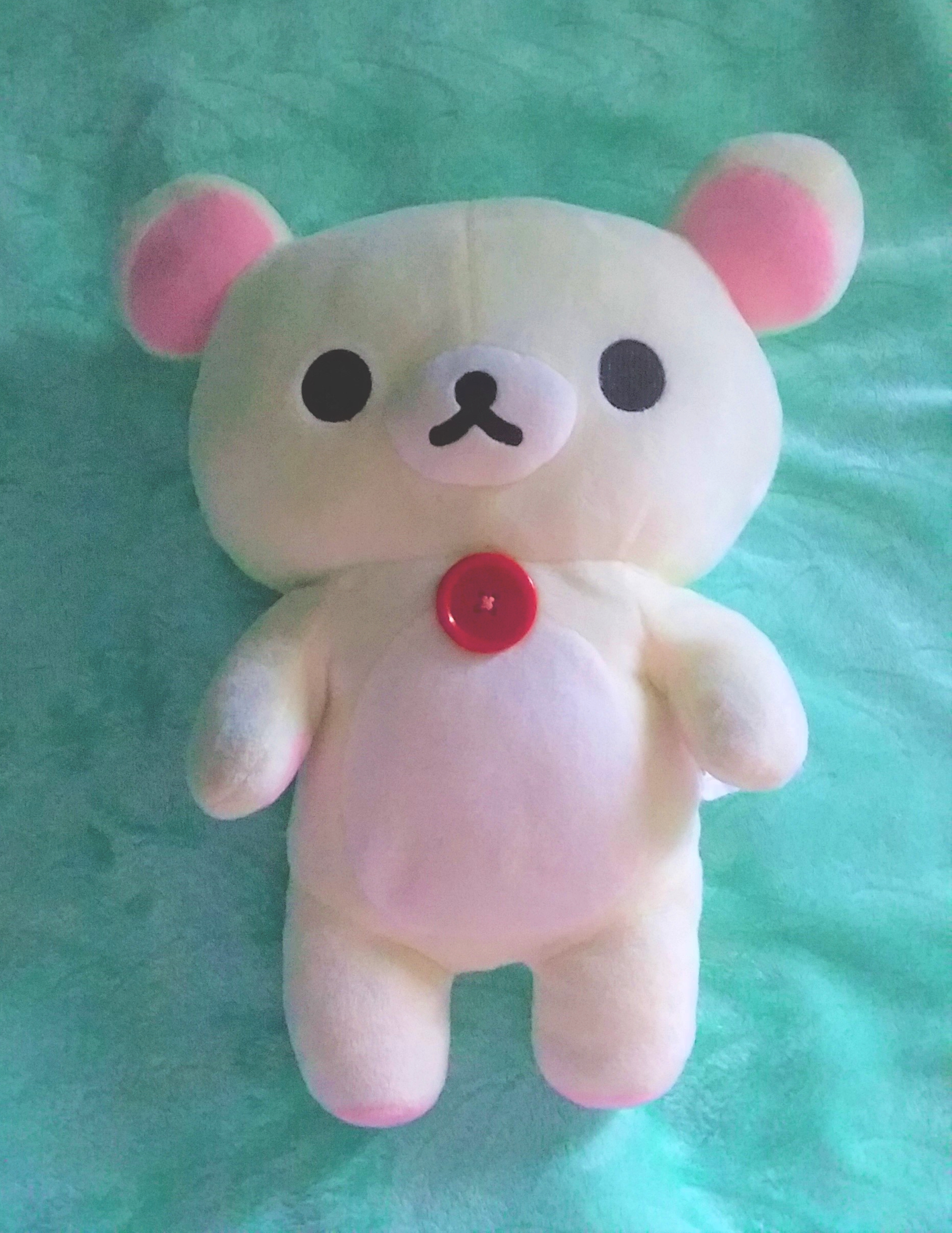 This Korilakkuma plush was something that I really really wanted at the peak of my weeaboo phase (12-13??), so I took advantage of the opportunity when I saw her in stores. I absolutely love her little plastic red button!! And her paws are filled with little beans!!!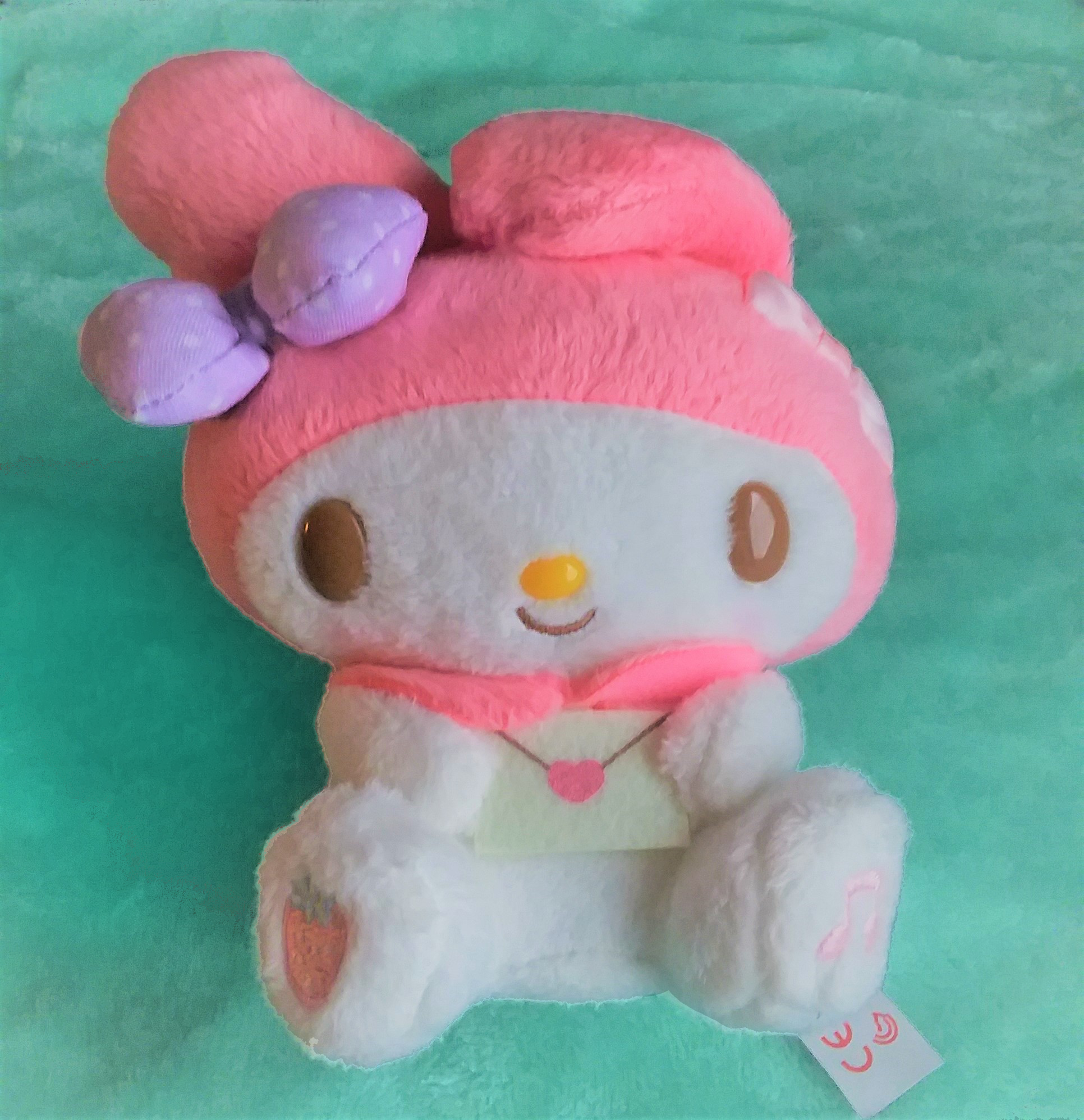 This is the My Melody: Message & Melody doll! It was gifted to me by Poppy for Christmas of 2018! If you press her left foot, she records your voice and repeats it to you in a higher pitch. If you press her right foot, she plays a cute little tune! She's super sweet!!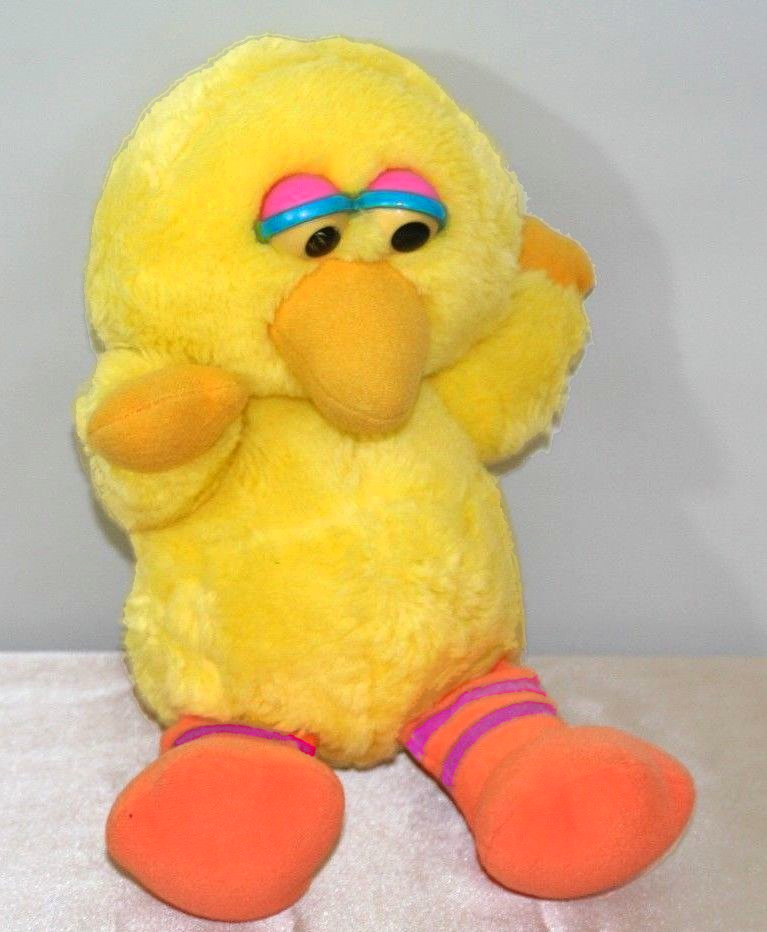 This is the 1983 Hasbro Softies Big Bird plush! He's super sweet and soft and has the cutest little baby expression!! He's got a cute little tail and hard, plastic eyes with the most vibrantly colored eyelids!! I absolutely adore squishing his tiny little hands, they're the cutest!!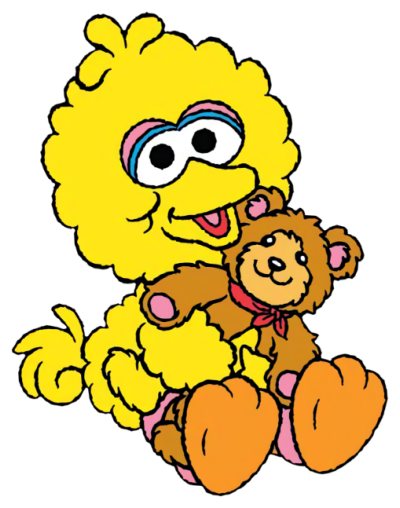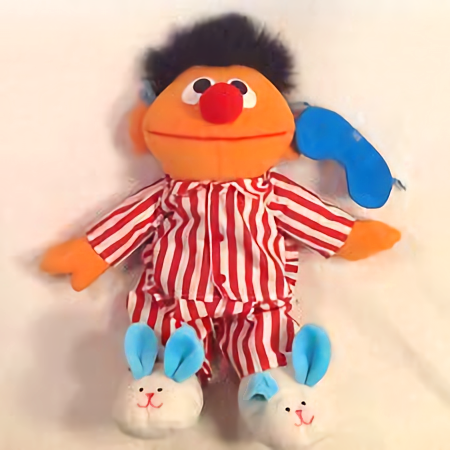 This is the 1997 Sing and Snore Ernie plush by Tyco! Ngl he's probably one of my favorite plush toys bc I find him so neat!! If you press his hand, he says that he's sleepy and needs a nap! When he senses that he's laying down, he'll yawn and sing Twinkle Twinkle Little Star until he falls asleep and starts snoring! When you pick him back up, he'll say he feels great! He has a little mechanism in his tummy that also helps give the illusion that he's really snoring and sleeping! I know a lot of today's toys are far more advanced, but I don't think I've ever personally seen a toy similar to him in this manner, so I'm still incredibly happy to have found him!! He's so neat to me!! Aside from that, he's SUUPER huggable and his slippers have the cutest little bunny faces on them!!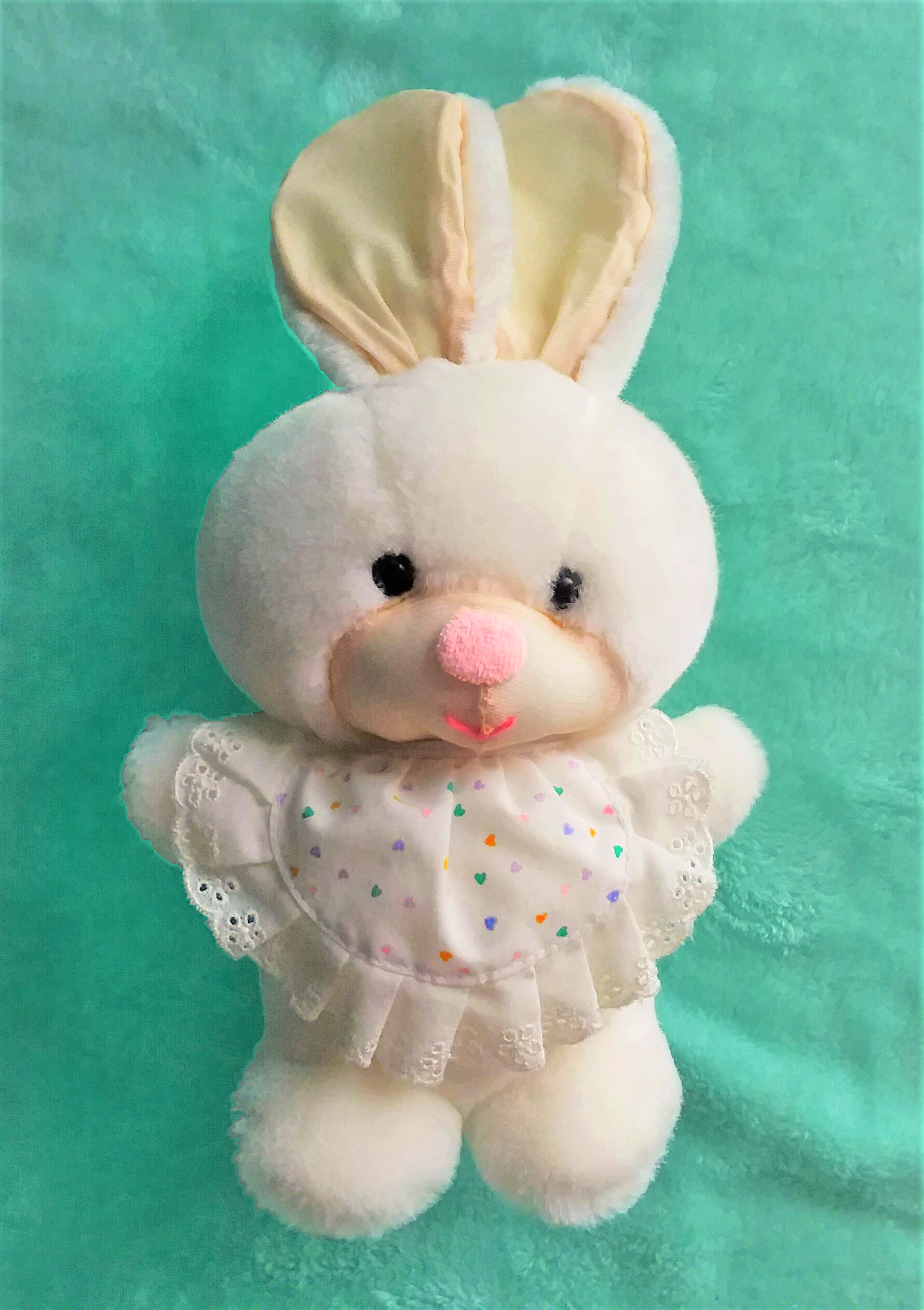 This is the sweetest little bunny plush by Russ!! I, unfortunately, have no clue what year he's from, but I don't think he was made anytime before 2002, telling by pictures of his tag that I've seen online. :o He's probably the softest plush that I own!! SUUUPER soft!! He's got the smallest little face and the cutest lace-lined bib, sprinkled with confetti-like hearts!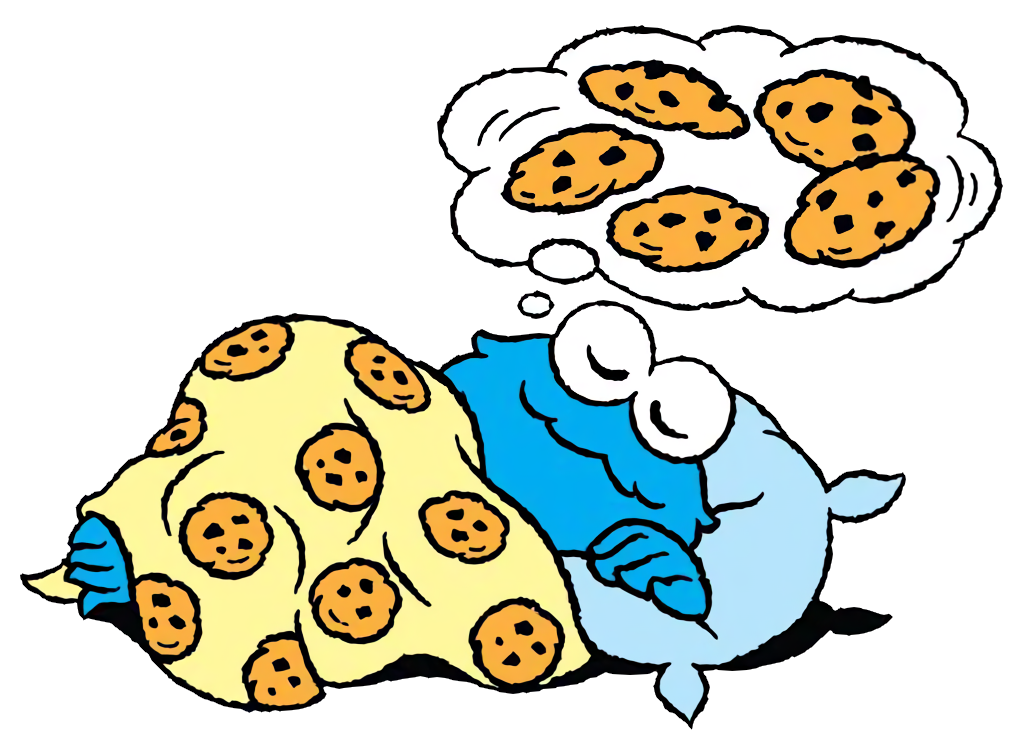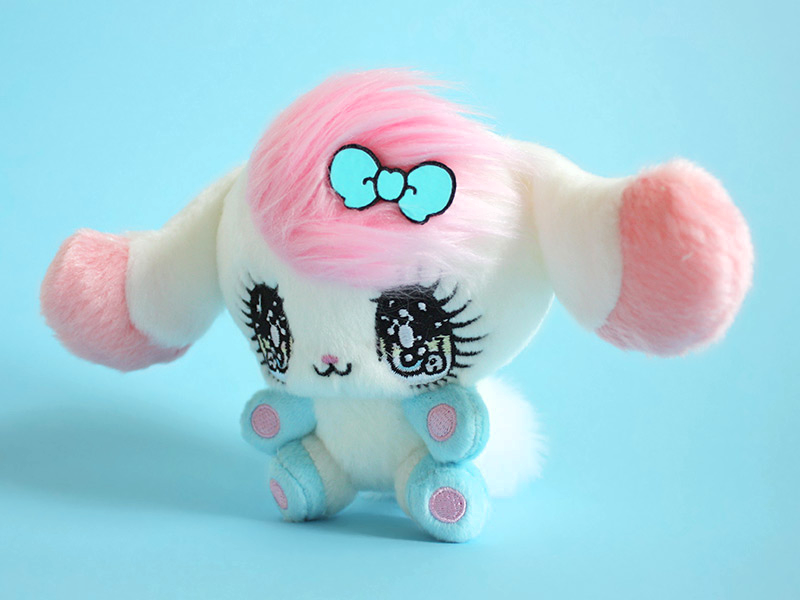 This little plushy is Kyun from the Peropero Sparkles collection by Yurie Sekia! I'm so glad that I was able to find them at my local Barnes and Noble! She's so small and sweet!!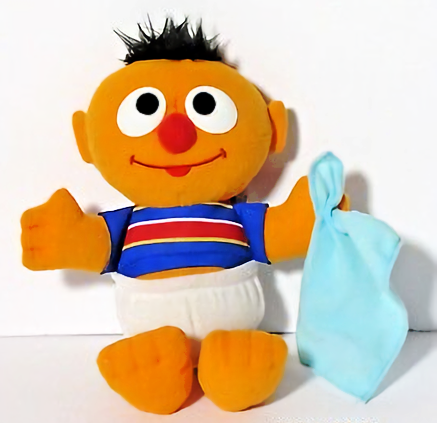 This is the Baby Sniffles Ernie plush by Hasbro! This was another plush that arrived on a rather troubling day, so it was a really comforting package to receive!

When you press his nose, he sneezes and says a variety of adorable phrases, like "I have a cold", "my blankie makes me feel better", and " hug please"!

Super cute!!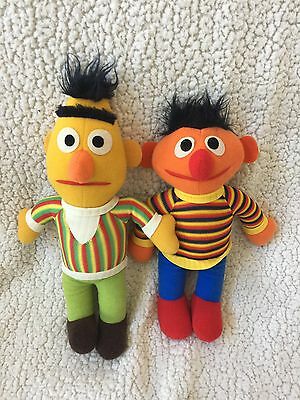 These are the 1976 Knickerbocker Bert & Ernie rag dolls! They were another super sweet gift from Poppy, who found them at an antique mall!!! They're so cute!! Definitely bigger than they seem in picture, which was a neat surprise! This is also my very first Bert!! Now we have a 1:3 ratio of Berts to Ernies lol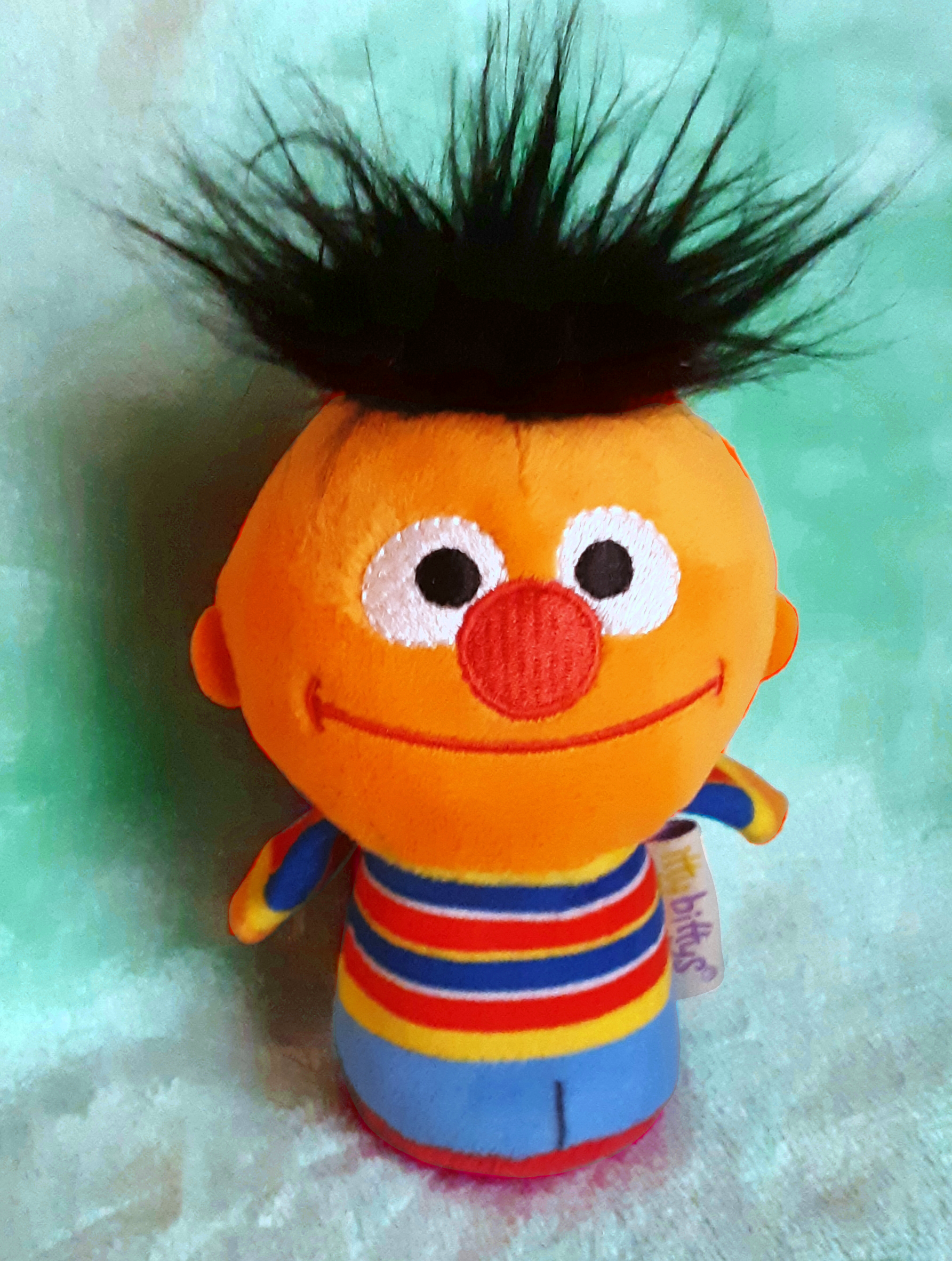 A tiny little Itty Bittys Ernie! Just another Ernie to exacerbate the loneliness of the only Bert I have

. Jk, I'll probably get the Bert eventually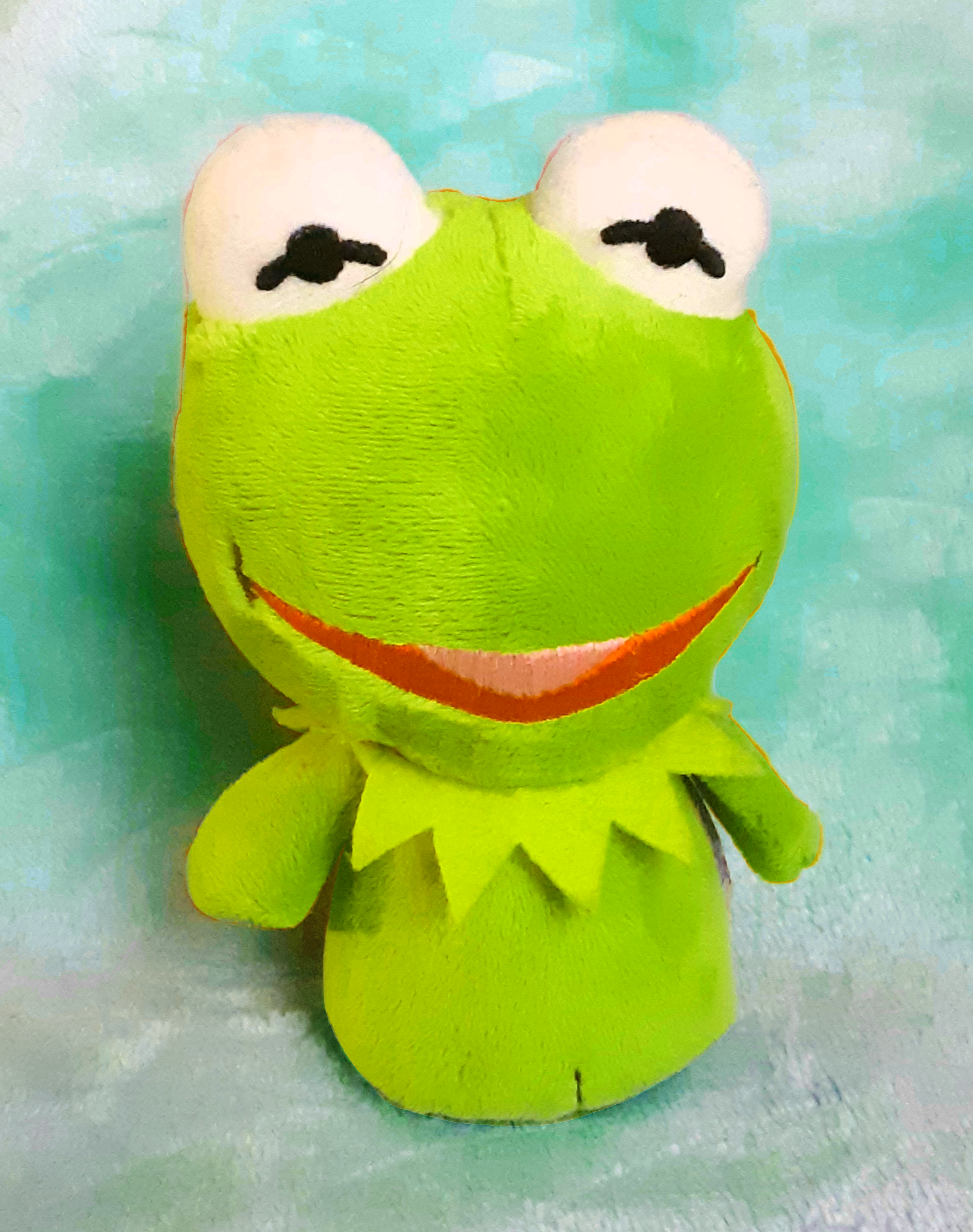 An Itty Bittys Kermit gifted to me by the lovely Grace! He's super cute and super soft!!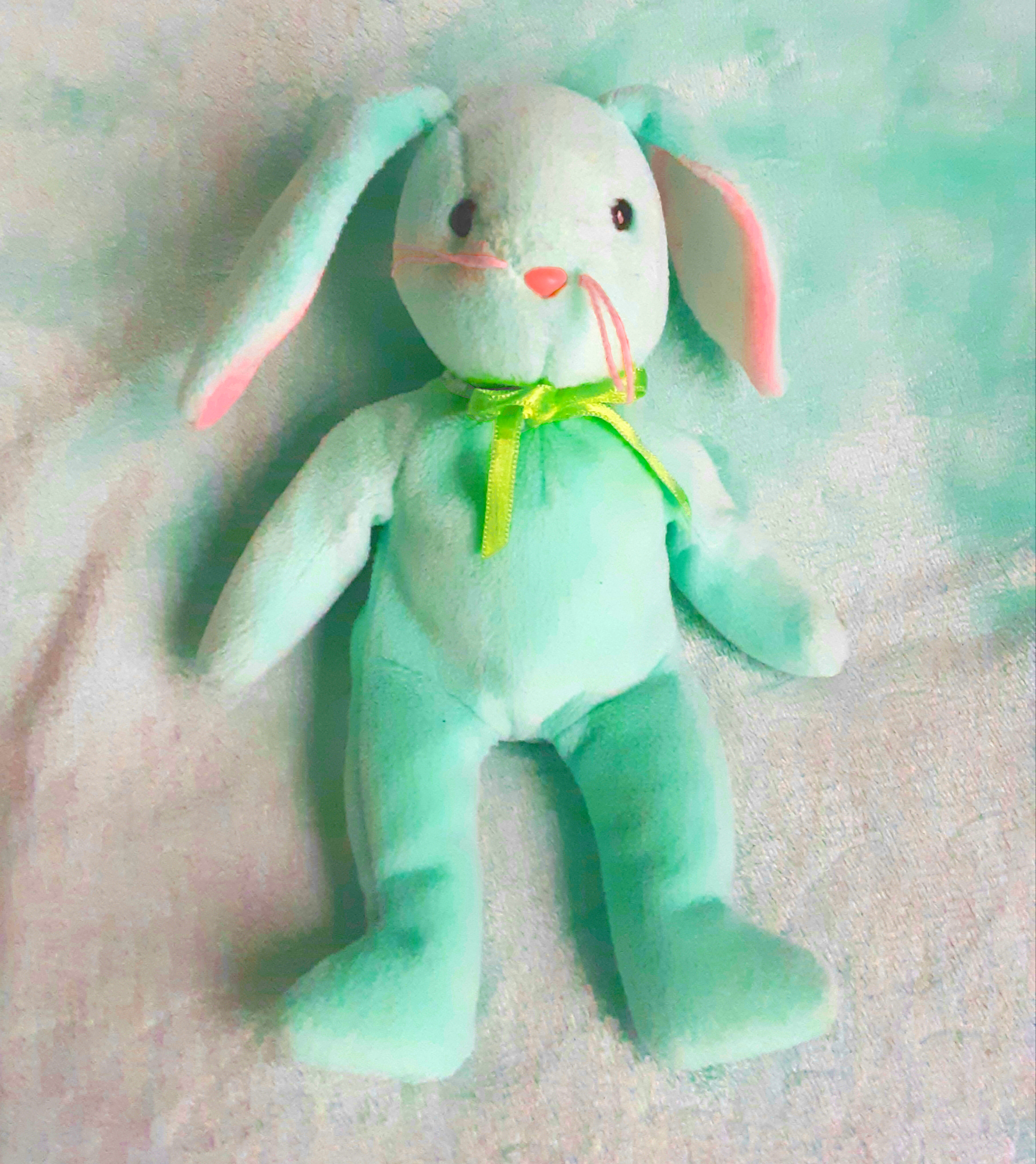 This is Hippity the Green Bunny Rabbit, a Ty Beanie Baby from 1996! I believe I might have had him since I was a baby.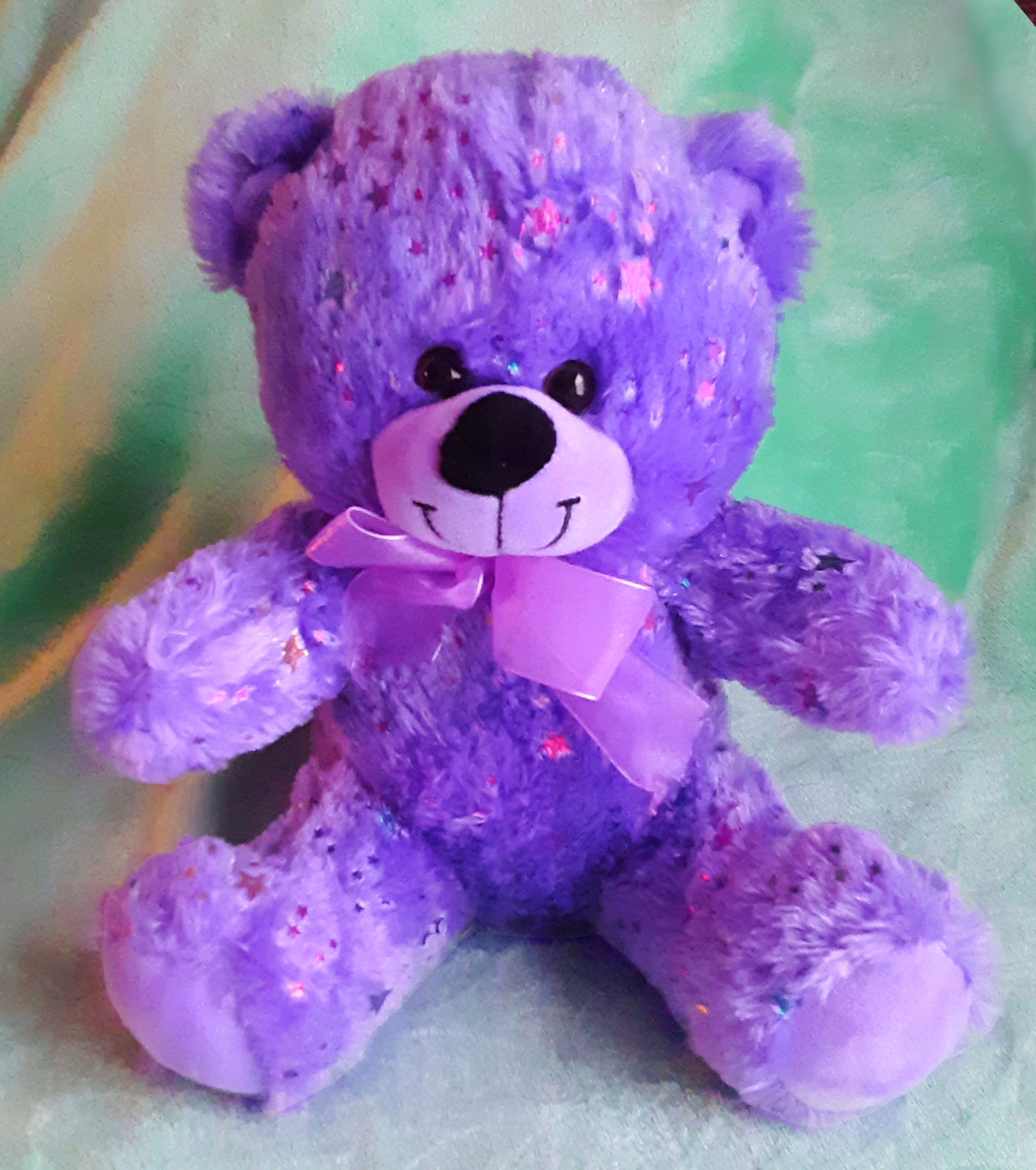 I won this cute little bear plush at an arcade on my 18th Birthday

. Unfortunately, I can't find any information about it online! Maybe I'm just not looking hard enough :/ Anyway, this bear is probably one of my favorite plushies in regards to design! His shade of purple is so lovely and vibrant and he has little shiny rainbow-gradient stars all over him! My ideal aesthetic!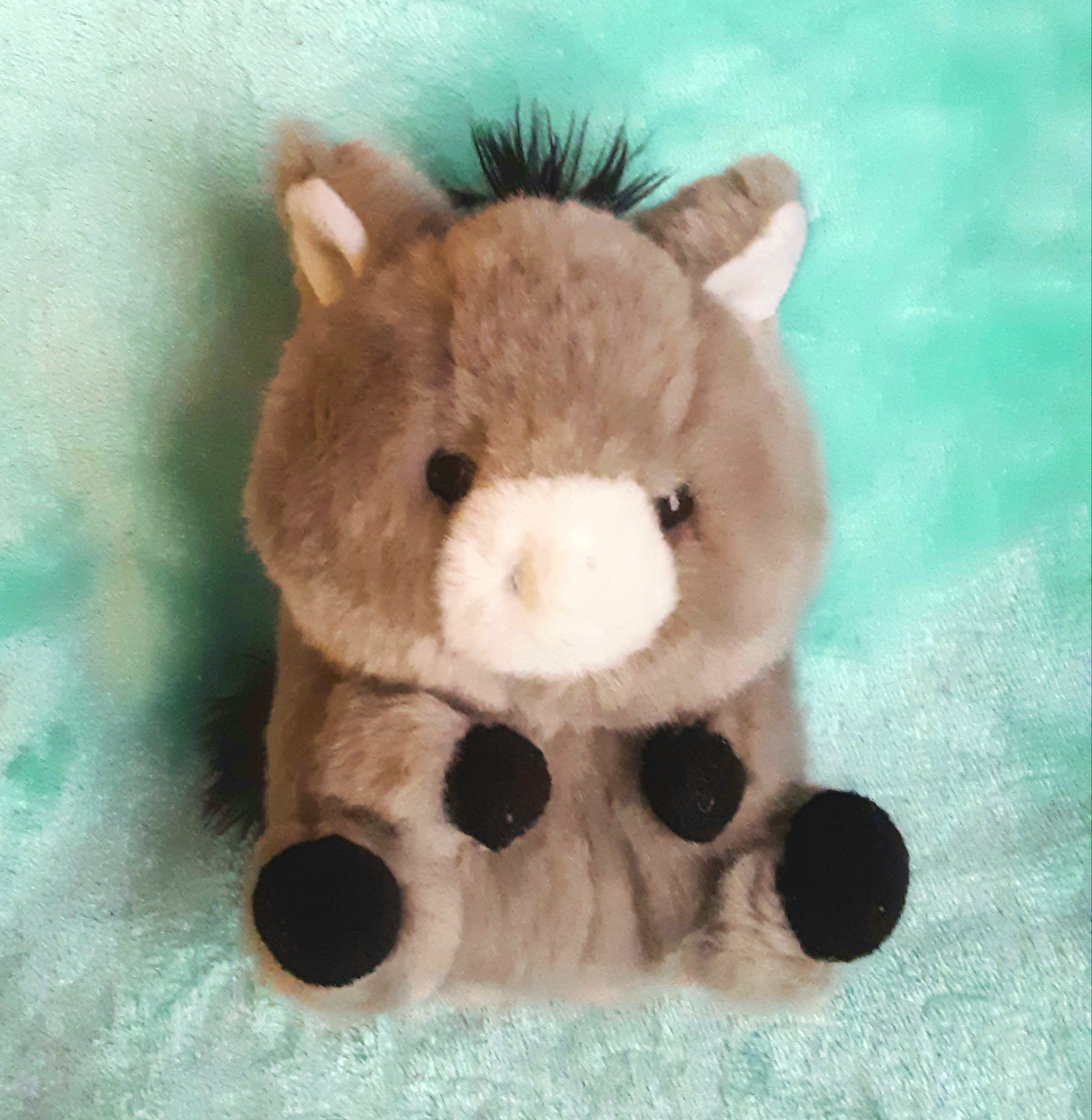 This is the baby donkey plush from the Aurora World: Rolly Pet collection! My mom saw him on Amazon and thought he was the cutest thing, so we got him! I've named him Camotito (little sweet potato). The whole Rolly Pet collection is sooooo cute, I highly suggest you check them out!!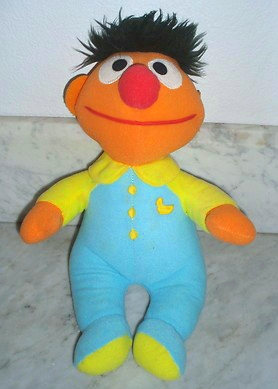 A 1983 Playskool Baby Ernie plush, gifted to me by Poppy!! The colors of his onesie are so cute! I especially love the little ducky on his onesie